Yes, it is 13 days until Christmas…you should already have your holiday decorations out. With the first snow out of the way it is actually starting to look and feel like Christmas time. To achieve the merry look you will need a few things.
Some foliage
Greenery is a great way to add color to your holiday decor. A simple string of garland and instantly liven up your entryway. The picture below opted for an unadorned version but you can find ones that are pre-lit and even ones that have ornaments attached. Garland can be strung along stair railings, doorways or mantels. Since they require little to know attaching there will be minimal damage to the permanent fixtures of your home.
Add a little faux fur
There is something about faux fur that just looks cozy. Whether it is a throw or an accent pillow you won't be able to help but snuggle up with it. The key to faux fur is to not go overboard, one or two pieces should do the trick. We don't want your home looking like a hunting lodge. Pairing faux fur with other textures like knit and linen you will be able to achieve a luxurious and yet approachable combination.
Choose a Color Scheme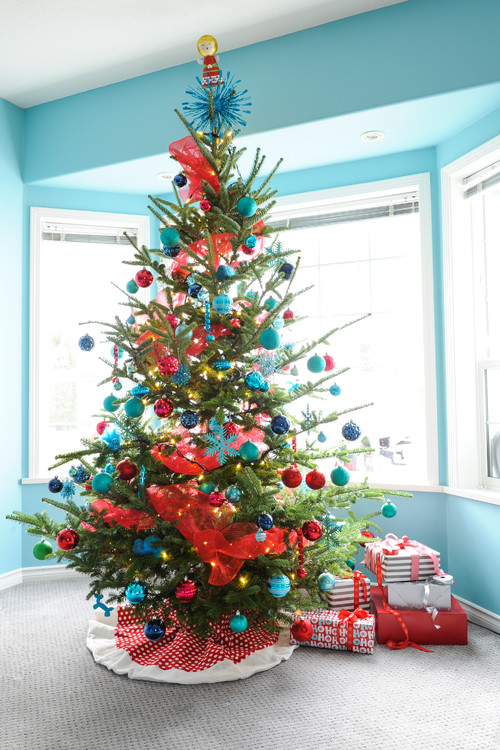 While the typical Christmas color scheme is red and green, there are tons of other options now. My fave is red, white and gold. It really lets the green of my tree pop. If traditional isn't your vibe feel free to go crazy! Pick two or three colors and concentrate on those. Just because your are sticking to a color scheme doesn't mean that everything needs to be matchy matchy.
Once you have an idea in mind just keep an eye out for things that match whenever you are out during the holiday season. You can find inspiration from store displays. Target and World Market have some of the best ones imo.
Add some DIY
Adding a few custom pieces to your decor will eliminate the chance of looking too much like a Macy's store window. DIY projects do not need to be expensive or time consuming. I think the best ones are the opposite. Take these simple candle holders from Food 52. Take a drive to your local hardware shop and pick up some sturdy copper tube caps. You'll find them in the plumbing department. You will also need some epoxy glue and some wood cut outs. Paint the wood cutouts and once they are dry glue the caps to the cut outs.  Now you have some funky candle holders for your centerpiece or mantle.
Don't Lose Yourself
Just because it is the holiday season doesn't mean that you have to change everything about your interior design. Already have accent pillows on your front room couch? Get some festive pillow cases to cover them. They will be easier to store anyway. Like seashell collection on your mantle? Leave it! You can dream about the beach while you are putting on your coat and mittens.
VIA (Houzz)